Training for
Competitive Dog Sports !
Private, Semi-private and Group Classes Available September-April!
Email tarch319@gmail.com for more info!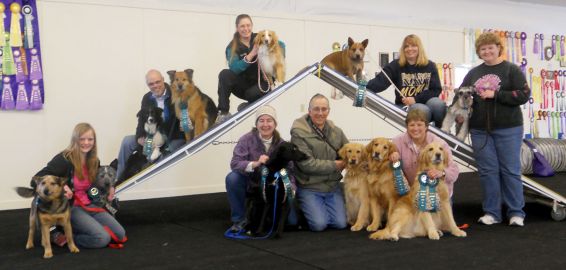 Basic Training
We offer beginner classes (private and semi-private lessons for puppies and adult dogs) focusing on the basic skills (obedience, focused attention, beginning agility obstacles) necessary to move forward into group agility or competitive obedience classes and/or to have a better relationship with your dog.  Kristi Hayes is now teaching the competitive group classes on Sundays!  And Tammi Archbold is offering Basic Training private lessons to get you started!  Both of these instructors are experienced trainers/competitors and have earned multiple agility championship titles!
After getting started with private or semi-private lessons, you may choose to continue with private lessons or join one of our beginner agility groups or other classes.  Our group lessons are $20/1.5 hour session.  The groups are "continuous" so you can come once a week or once a month depending on your goals and your availability.   
Contact Tammi tarch319@gmail.com for more info or to schedule a lesson.