About Yellowstone Dog Sports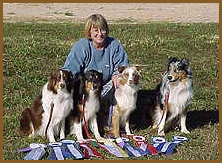 from Elaine Osmun, owner:
Yellowstone Dog Sports was born out of my love for dogs and my love for the Beartooth Mountains, the greater Yellowstone ecosystem and my wonderful little town, Red Lodge, Montana. I combined all of that with a lifetime of "camp" experiences. From 1966-1978, I spent nearly every summer at Heart O' the Hills Camp in the beautiful Texas Hill Country. From 1983-1993, I ran children's summer sports camps at The Court Club in Nacogdoches, Texas. When my interests turned to "dog sports," I took my dogs to camp at Sharon Nelson's NADAC agility summer camps in Cataldo, Idaho and Maybell, Colorado.
From those varied camp experiences, I learned lots of cool NEW stuff every summer and have wonderful memories of adventures in the great outdoors but most of all I formed many amazing friendships that have lasted a lifetime.
So now, in my OLD AGE, I'm not going anywhere without my dogs… so here it is: YELLOWSTONE DOG SPORTS!!! NO DOG LEFT BEHIND!!